You may have already seen this on kstewartfans, but I wanted to post this here too.

Here is my fan encounter/post about the swath premiere and the movie. There aren't going to be any spoilers of the film, don't worry :) But if you have any questions you can ask me and I'll private message you the answer! :)



So, I was lucky enough to be able to attend the red carpet (in the bloggers area) and also slip inside and see the movie.

I'd like to thank feref PR and Universal. Also, Marc from DDA and the whole DDA team who did an amazing job in the organisation of the premiere - the most organised I've been to. (That's the boring part out of the way now I'll show you pictures).

We got to London around 11am and headed on down to check the scene at Leicester Square. The carpet was green, being the enchanting forest leading up to the dark forest which was where we were. It was all amazing, they had fake crows which they were unpacking out of these plastic covers, trees EVERYWHERE, bags and bags full of leaves which was hilarious with the wind when the guy was trying to place them on the carpet.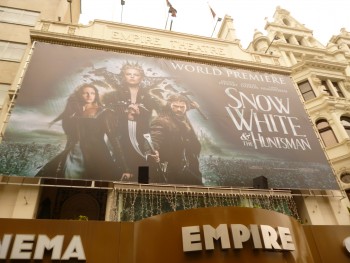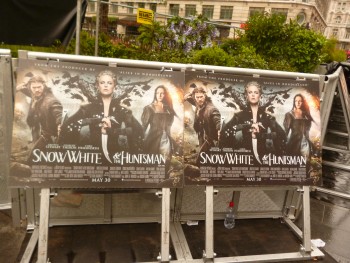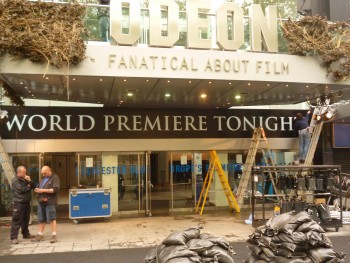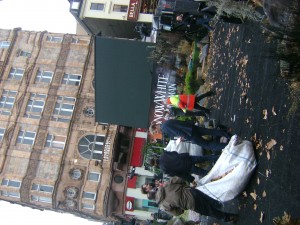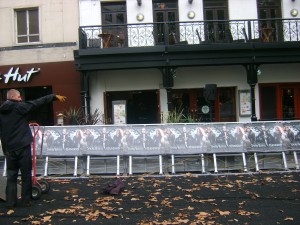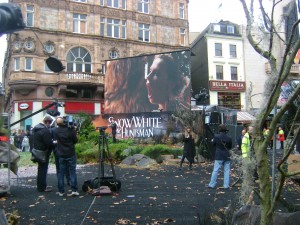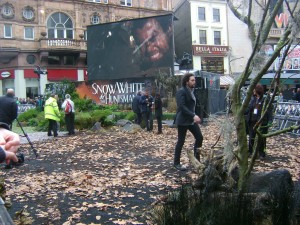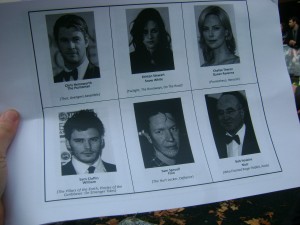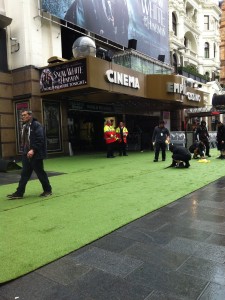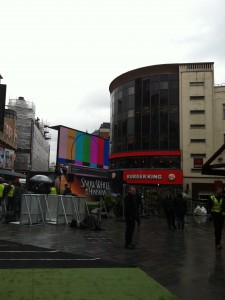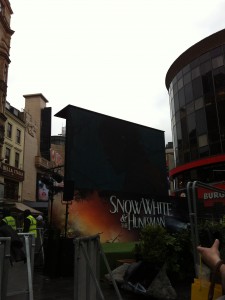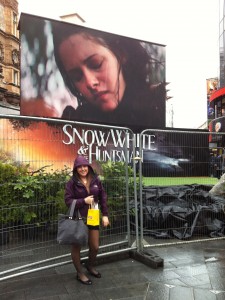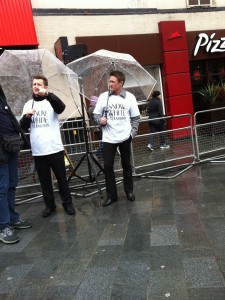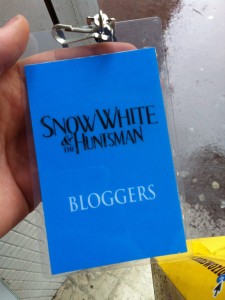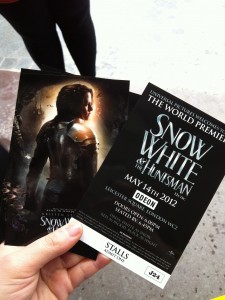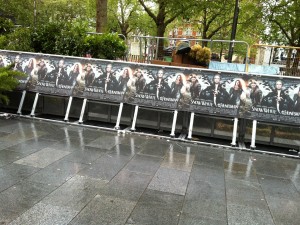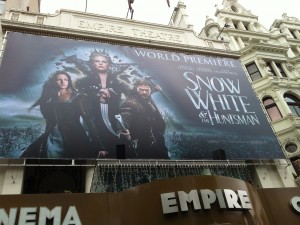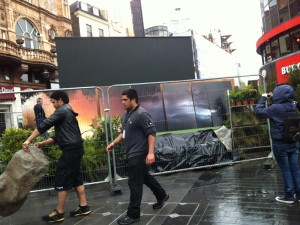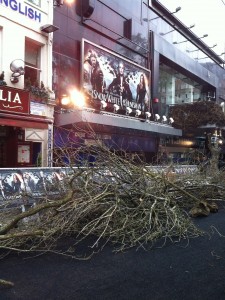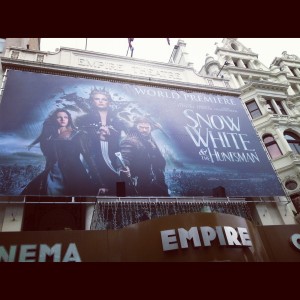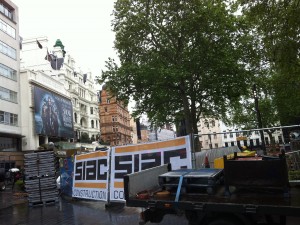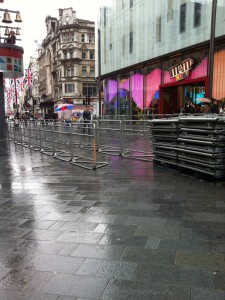 We were allowed in the blogger area from 4pm, they let us in and it was basically right next to the press, leading down towards the Odeon. We had a pretty good spot, tbh.

Talent started arriving, late, but they arrived. Where they arrived was quite far from where we were stood, so we were waiting anxiously (freezing my ass off). Many different celebs come round. We got to interview Made In Chelsea's Amber, she was lovely. Said she'd rather go with the huntsman because she likes adventure. We also got to speak to Brian Gleeson who plays the dwarf Gus, he was really nice. You can read what he said about Kristen, Chris, the dwarfs ect HERE. After that, we spoke to Colleen Atwood who said that Charlize and the army were the most difficult to design for!

The guy looking after the bloggers, you'll see him in loads of my pics lol. He was such a lovely guy. He was helping to try get some of the cast, writer, director ect around to us. He got Nick Frost first of all. Lovely guy, he was really sweet, down to earth and seemed like he really enjoyed making the movie: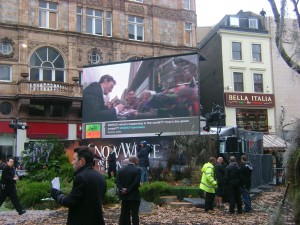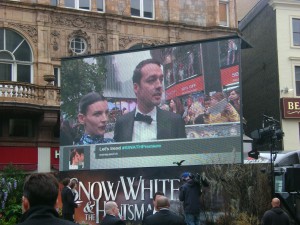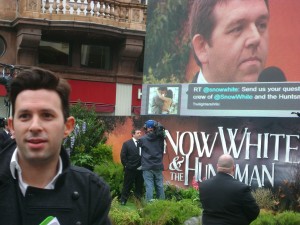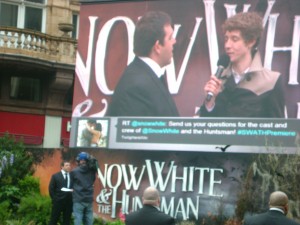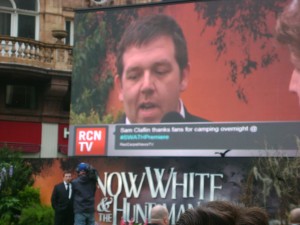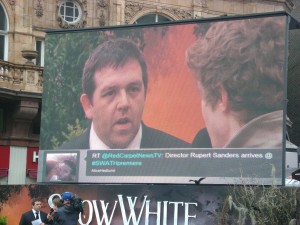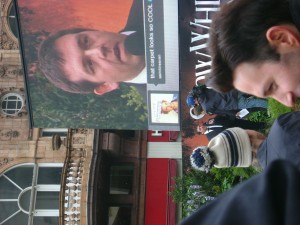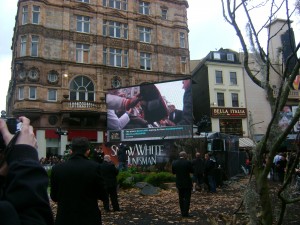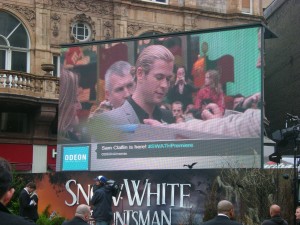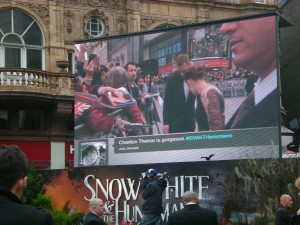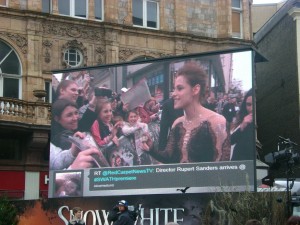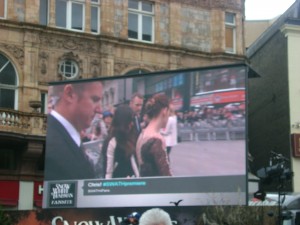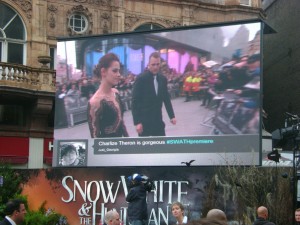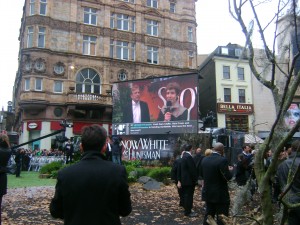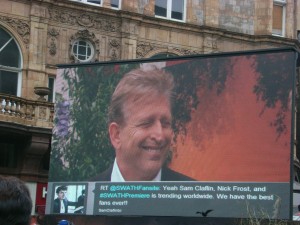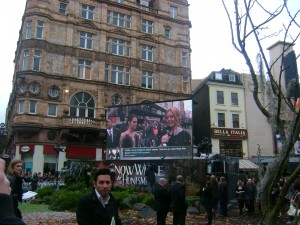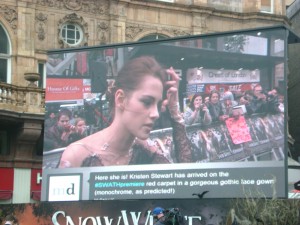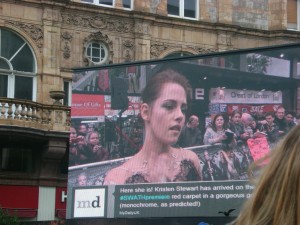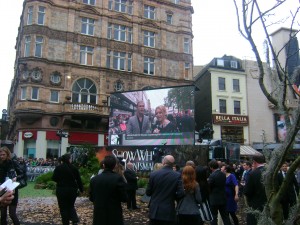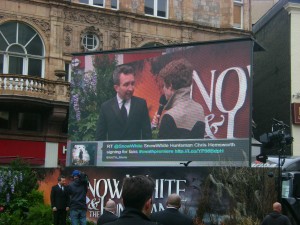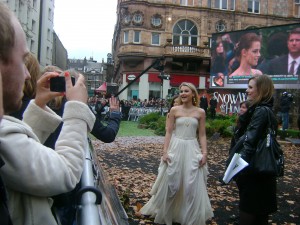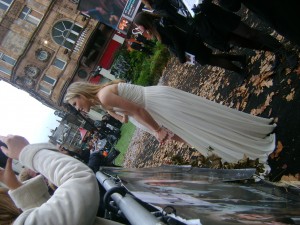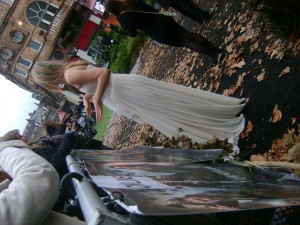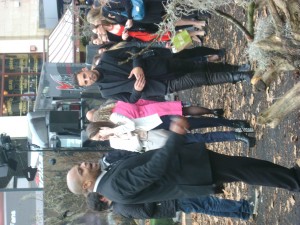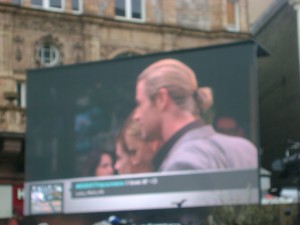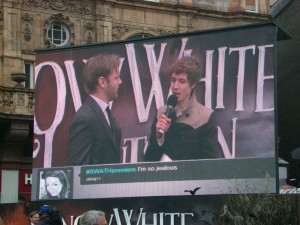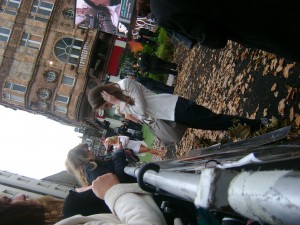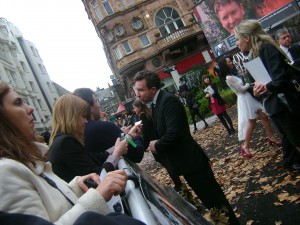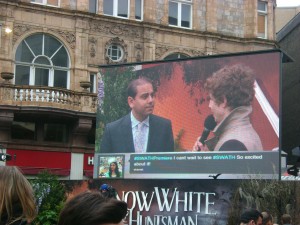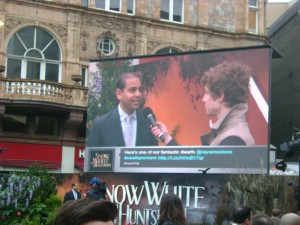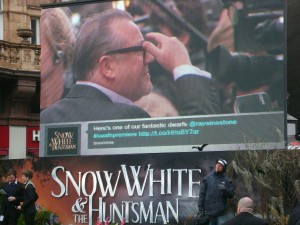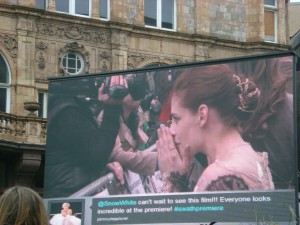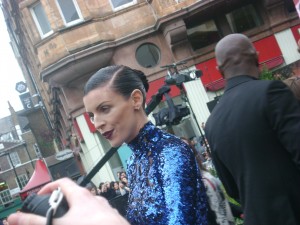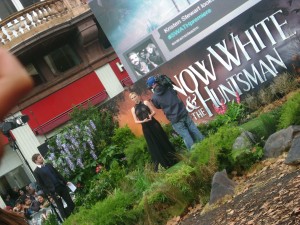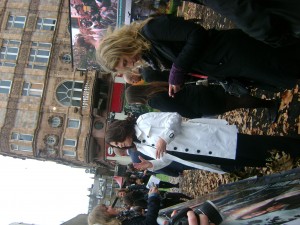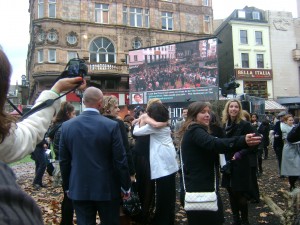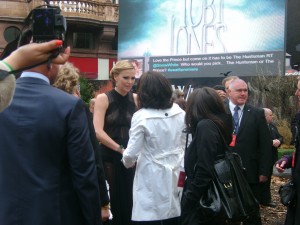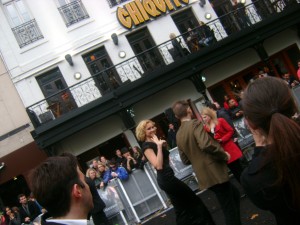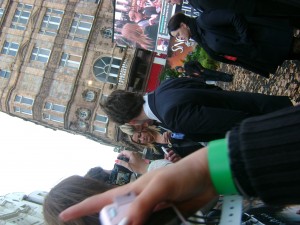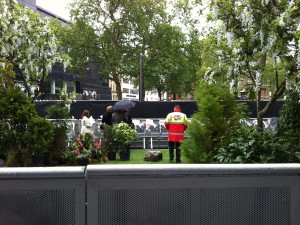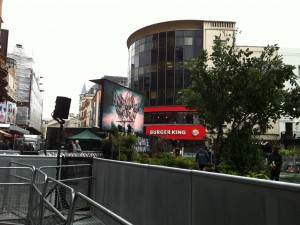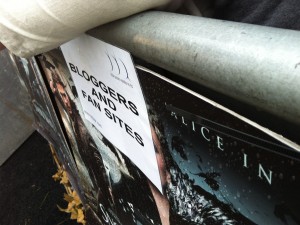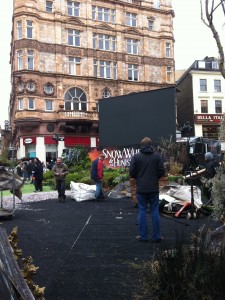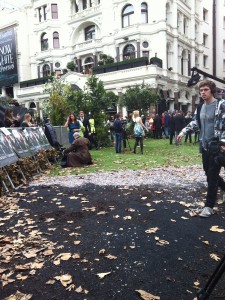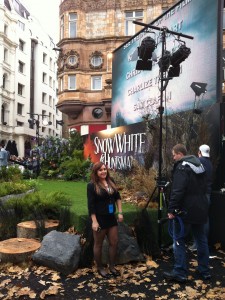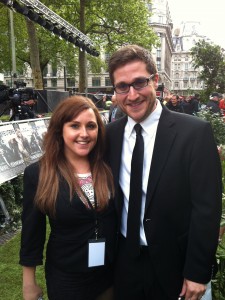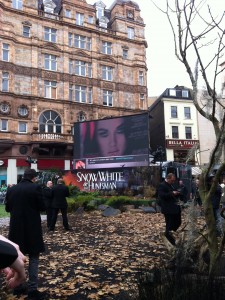 Then we met Rupert. He was really nice! He asked where I was from~ to be in the blogger part and I told him that I run a site and he told me that I am too young to be "running things" haha. We asked for a picture and he was checking out his tie in my iPhone camera "how does my tie look". I told him it looked fine and we spoke about how excited we were to see the movie. He told me he was really quite nervous but happy that we got to see it and he hoped that we liked it (we did, btw - more on that later).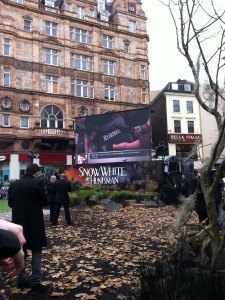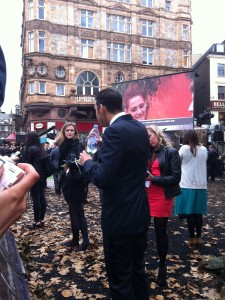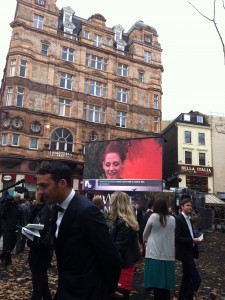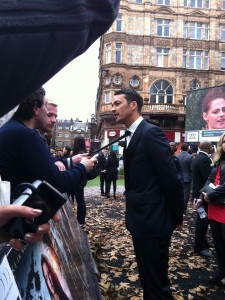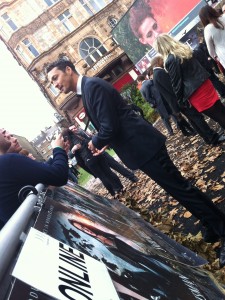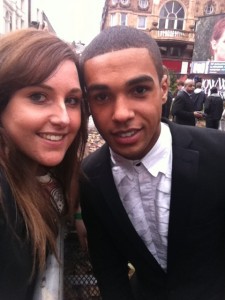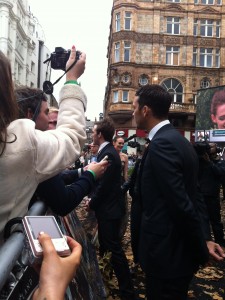 Charlize got wizzed past us as she was cold and needed to get inside. It was absolutely freezing so I don't blame her! Sam was getting interviewed and Chris came up next to him to be interviewed and Sam was like "I have to compete with this guy! Look at him!" and they had a laugh. Sam came down to us and took a picture with RobstenDaily (lovely girl, should follow her) and said he had to 'straddle' the barrier because there was so much forest in the way lol.

Sam came to us and I asked to take a picture. He said of course. Then I remembered I had bought him some m&ms earlier. I told him that I had tweeted him asking him what his favourite colours were but that he didn't reply so I got him boring red and blue. He was like "ohhh what is it" and went to pull it out of the bag and was like "Jesus Christ, I thought it was a fish!!!" and him and his publicist were laughing like "omg I thought it was too" hahahhaa and then he tried to give them back to me telling me that he can't take them and that we should have them for the movie for something to nibble on. But I insisted that he took them and he did.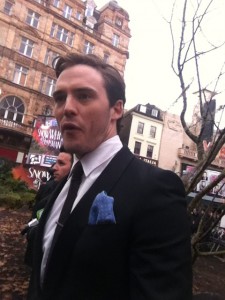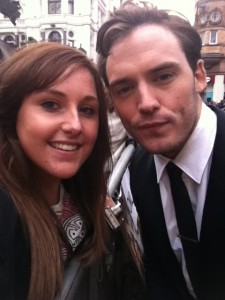 Then Kristen went past and all hell broke loose lol... We wanted Kristen to come over so Jean was all "KRISTEN" and then Sam imitated her like "KRISTENNNN OMG" hahahah. Sam then apologised saying that he thinks she's just being taken inside...She ended up stopping a few people down from us. Jean went over to her and here are her photos. FULL CREDIT TO JEAN. THESE ARE NOT MINE.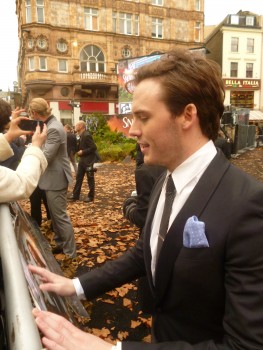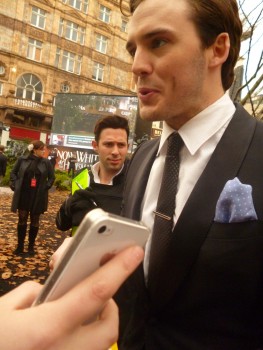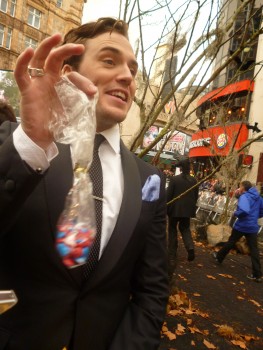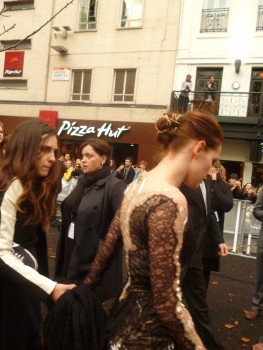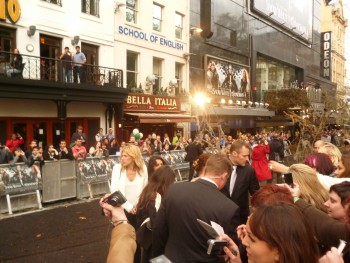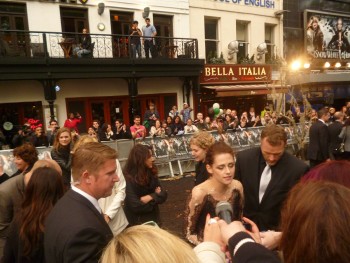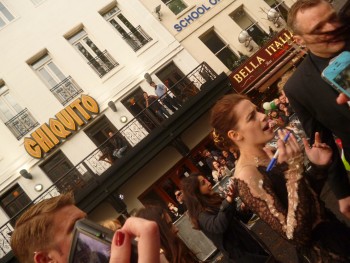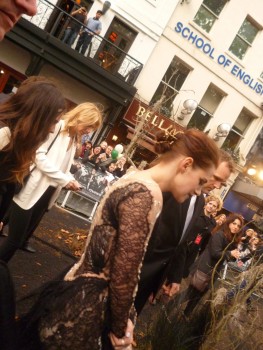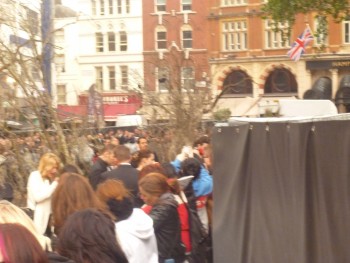 I stayed where I was because everyone was crowding her and I didn't wanna attempt to get down there haha. So I waited for Chris to come over. Marc was lovely and asked his publicist if he could just come over to us for a few seconds. He did...So we took a photo and he was really really lovely. We then had to get onto the carpet and head down to Odeon and into the movie.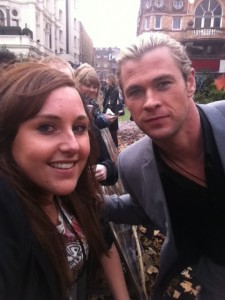 Kristen was right by the entrance with someone applying her lipgloss before the photocall, I asked Ruth if Kristen could take a picture and she said no they had to go. I was sad when we sat down in the movie because 1. I had lost my god damn ticket but they didn't even check it anyways lol and 2. because I didn't even see her properly. But, then I realised that I have met her twice and seen her lots of times so I shouldn't be too sad as I am very lucky to have met her even once, and to even be stood there with her infront of me. Everyone deserves to meet her and I was being stupid feeling down because I had met her already which was more than some people! Anyways I took this photo: Bit blurry sorry!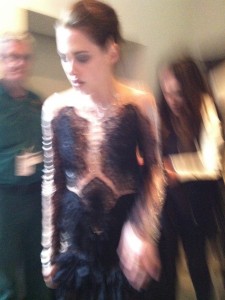 We headed into the movie. The cast introduced the film: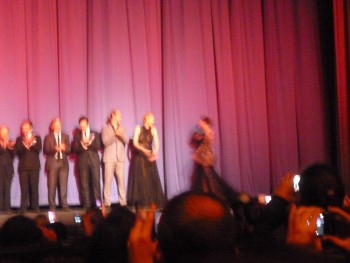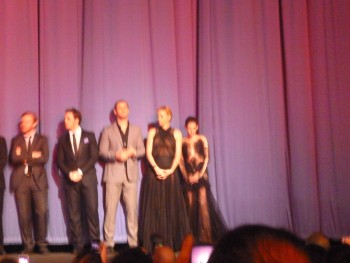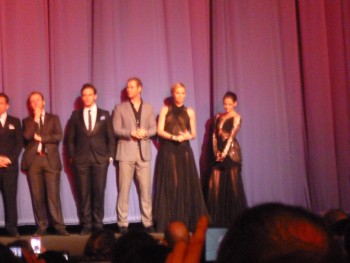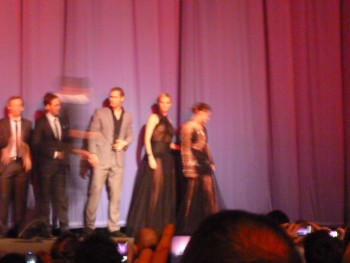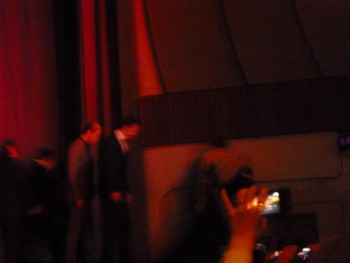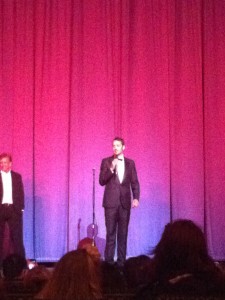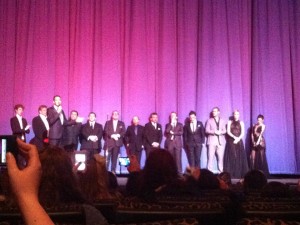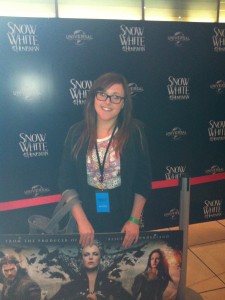 Whilst walking off the stage, Kristen took off her heels and fist pumped them to the audience - everyone cheered haha.

Without giving too much away, the film was absolutely amazing. I'm not a big lover of fairytales and action movies but the way this was done was so different and gritty. The entire cast were fantastic and I'm not just saying that. They really really were. They all worked perfectly together. The movie had me :D to :O to :/ to :( back to :D. Rollercoaster ride haha but it was so good and I don't want to give too much away so like I said if you have any questions ask me!

Afterwards, we ended up hanging around by the empire. Colleen Atwood casually got in a car infront of us lol. So we assumed people would be coming out...Rob's sister was about to walk past me and I tried to take a sneaky photo...But my flash went off and she saw...SO AWKWARD. But I took one off her back hahaha and posted it to Twitter and people were like "pics. it did happen" so I assume people didn't believe she was there? She was, with Marcus and Sam and they were stood close to us waiting to get in a car to i assume go to the after party.They ended up just crossing over by m&m world and we think get on the coaches that were taking people to the after party. So then we just decided to go to McDonalds and call it a night :)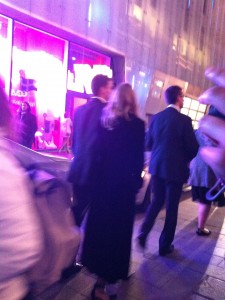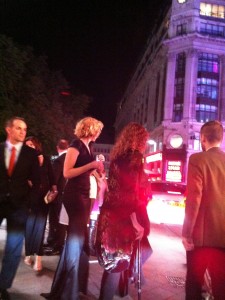 Sorry that I don't have any amazing story of how I met Kristen or spoke to her, ect :(

EVERYONE SHOULD GO AND SEE SWATH. I promise you, it'll be worth it.



PS, Sorry that the photos have gone funny :( my imagebam is so slow!